MAM SWEET FU Fu confectionery (from Aomori Prefecture)
MAM CAFE / MAM SWEET FU <From Aomori Prefecture>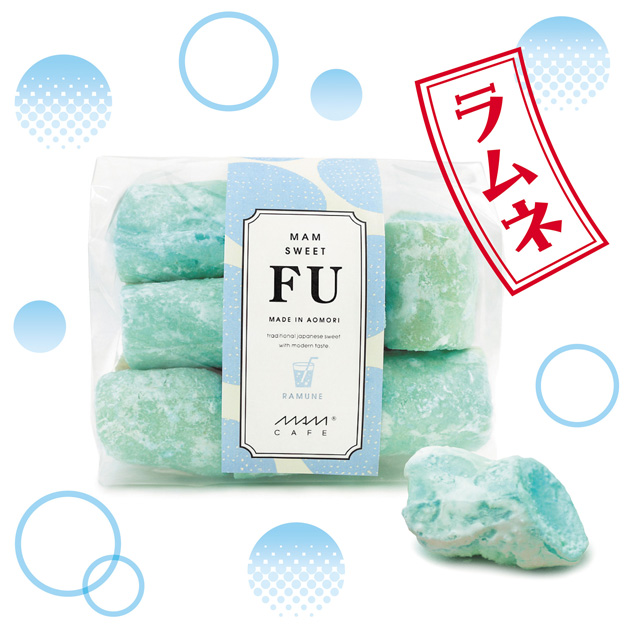 tradition and new technology
The technology to make "fruit and fruit juice fu confectionery" was developed through the cooperation of local farms, coordinators, and fu makers. It is precisely because we have the technology that we have acquired through the development of regional cooperation that we are able to deliver fruit fugashi containing various fruits and fruit juices.
Korokoro, crispy fu confectionery
Crispy texture. Its mild sweetness and fruity aroma make it a great snack, but it also goes well with wine and whiskey. The gluten that has broken in the package can be enjoyed as a delicious topping for ice cream, pudding, etc. Please try it.
Tradition × modern fugashi
Founded in 1882, in Hikomae City, Aomori Prefecture, we have handed down the ``wheat gluten'' that has been handed down from generation to generation, and carefully hand-crafts it.
We accept large orders
For individuals, it can be used for "midyear gifts," "year-end gifts," "family celebrations," "gifts," etc. For corporate customers, it can be used for "visitor gifts," "promotional products," If you contact us by e-mail or telephone, we can respond smoothly.
Product name
MAM CAFE / MAM SWEET FU <From Aomori Prefecture>
Description of item
Founded in 1882, in Hikomae City, Aomori Prefecture, we have handed down the ``wheat gluten'' that has been handed down from generation to generation, and carefully hand-crafts it.

blueberry :
Fruit fu confectionery coated with molasses with blueberry juice added. The balance of sweetness and sourness is just right, and you can enjoy the texture with a few grains of fruit left.

Apple :
Sweet and sour apple flavor with plenty of molasses made by adding pureed apples from Aomori Prefecture to Hokkaido beet sugar.

Cassis :
A delicious sweet with a mellow sourness, finished with molasses made from puréed cassis from Aomori Prefecture.

Sakura :
A lightly sweet fugashi with plenty of molasses scented with cherry blossom flavor.

mango :
The bright yellow color of the mango is eye-catching. When you open the package, you can enjoy the rich tropical fruit scent of mango.

La France :
It is a sweet made with plenty of La France from Yamagata prefecture. Anyone can enjoy the simple sweetness.

I sprinkled molasses scented with ramune cider flavor. It's a nostalgic fugashi.

Product specifications
Size: width 16 x depth 9 x height 13 cm
Contents: 70g
Expiration date: 6 months from date of manufacture Country of origin: Japan
Raw material name
blueberry :
Sugar, Blueberry, Flour, Gluten/Trehalose, Flavouring

Apple :
Sugar, apple puree, wheat flour, gluten/trehalose, flavoring, coloring (blue 1, yellow 4)

Cassis :
Sugar, Cassis, Wheat Flour, Gluten/Trehalose

Sakura :
Sugar, wheat flour, gluten/trehalose, flavoring, coloring (red 3, red 106)

mango :
sugar, mango puree, wheat flour, gluten/trehalose, flavoring, gardenia pigment

La France :
Sugar, La France Puree, Wheat Flour, Gluten/Trehalose, Flavoring, Gardenia Pigment

Ramune sugar (domestically produced), wheat flour, wheat protein/trehalose, flavoring, coloring (blue 1)

About the brand
It is said that Japan is the only country in the world that has so many onomatopoeias associated with food. I think that's why people living in Japan are so particular about food. Surrounded by the sea and mountains, Japan is blessed with an abundance of nature. Good food is everywhere. But the delicious things we know are probably still a handful. There are still many foods that are not known but are really delicious. There must be special products that can be said to be masterpieces born from the meticulous skills and commitment of craftsmen, as well as the materials produced under the unique conditions of the region, such as the climate, water, soil, and topography. The MAM CAFE series was born by discovering these specialties and combining them with our new ideas. We will find "delicious things" from all over Japan, pursue the joy of having them in your hands with peace of mind, and introduce the best taste.
size

width
Depth
height
16cm
9cm
18cm