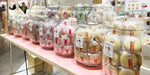 We are looking for people who can work for a short term at a limited-time shop in a commercial facility within walking distance of JR Ebisu Station.
■ Recruitment details
Business content:
All things related to sales such as customer service, cash register, and stocking of food and miscellaneous goods at "MAM CAFE STORE"


Working period:
Thursday, April 21, 2022 to Sunday, May 8, 2022
Working hours:
①09:40~18:40
②12:30~21:30
*Negotiable over 5 hours.
Work place:
Within walking distance from JR Ebisu Station *Details will be provided after inquiry/application


■ Employment form
part-time job
* Preference will be given to those who can work in shifts 3 or more times a week and who can handle flexible hours. First of all, please let us know your wishes.
■ Treatment
Hourly wage: 1,100 yen
Transportation expenses paid (up to 1,000 yen per day)
*Company discount available



▼For applications and inquiries, please contact us here.
retail
(at)
gfconcrete.com
*Email address
Please replace (at) with @.
Please write "Short-term staff recruitment" in the subject line.
After receiving the e-mail, the person in charge (Arai) will contact you regarding the interview schedule and answers to your questions.



Those who like MAM CAFE, those who are aiming for the interior industry, those who want to be involved, those who are looking for short-term work during the Golden Week period, etc.
If you are willing to work seriously, there is no reason to apply. Please apply.
*Applications will be closed at 13:00 on Friday, March 25th.